Shape Me Shake 1+1 FREE & FREE Shaker
Whey protein powder for the best sport shake, perfect for cooking and baking.
16 g protein + 5 g fiber + 11 vitamins
Dietary supplement with sweetener (contains naturally occurring sugars)
Packaging: 2 x 450g
for 30 portions
+ a FREE Shaker
FREE GIFT

Our e-book filled with tips, tricks and tasty recipes + access to our online-gym!
100% Money-back Guarantee on Satisfaction
Handled, shipped and delivered within 3-5 working days
Free shipping for orders over

£50
30-Day Money-Back Guarantee
If for any reason you are not completely satisfied, simply return the empty package and get a full refund. More
Buy
Try
Return
Money back
Free with your purchase!
Lose weight quickly and effectively, by combining our products with a healthy diet and regular exercise!
E-book with everything you'll need for a successful weight-loss journey! Delicious weight-loss recipes, an easy-to-follow shopping list and a ton of tips and tricks to help you get in shape in no time.
Additionally, you'll get access to our online-gym, filled with different types of exercises to tone your whole body! Are you ready for a fresh start and body transformation?
A protein drink that knows what a woman needs!
Shape Me Shake with its innovative formula helps you reshape your body and make you feel and look good!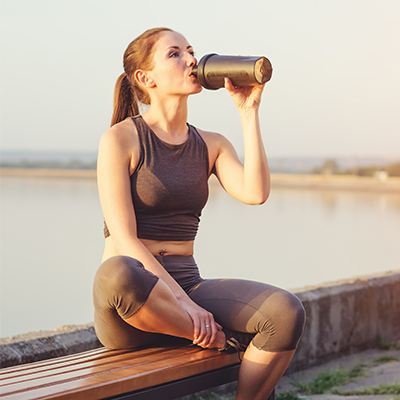 Revolutionary 16 g of whey protein and 5 g of quality dietary fiber with casein added will make sure you feel full for hours.
It contains whey proteins, hyaluronic acid, Q10 and 11 vitamins, so you will get everything you need to feel and look your BEST!
Green coffee extract and L-carnitine help with weight loss by blocking absorption of sugar and melting fat.
All this in a drink that contains only 105 calories!
HOW DOES IT WORK?
Weight loss is easy if you start it right. Avoiding added sugar, including high fiber content, fast and slow digestible proteins and high quality weight loss ingredients to your diet will make sure you achieve the desired results in no time.
Shape Me Shake - PREPARATION TAKES ONLY A MINUTE!
What makes Shape Me Shake so effective?
It's simple! Protein drinks are very effective for weight loss. We have improved our Shape Me Shake drink by adding a lot of healthy ingredients which other protein drinks don't have.
AVERAGE PROTEIN DRINKS
1.Protein drinks are great for muscle mass, but they don't keep you full for long time

2. Have little or no fiber

3. Have no added vitamins

4. Have no weight loss ingredients

5. Have no real nutrients

6. Contain large amount of sugar
SHAPE ME SHAKE
1. The combination of whey protein and casein ensures a longer feeling of satiety (stops the sugar cravings that ruin your efforts) and helps protect your muscles during weight loss

2. 5 g dietary fiber not only to reduce hunger, but also to calm the intestinal flora, support digestion and weight loss

3. Green coffee and L-Carnitine make this shake a real weight-loss helper - as they stop the absorption of sugar and speed up weight loss.

4. 11 vitamins that provide important nutrients in low-calorie diets.

5. We are not hiding anything. The drink contains 105 calories and 4.4 g of carbohydrates , of which 1.5 g of sugar + 11 vitamins, the whole spectrum of amino acids, 5 g of fiber and 5 additional ingredients for body shaping.
You need a proof?
These are the two most important facts we considered when we created the Shape Me Shake drink:

Ingredients:
Active ingredients
u 30g
%NRV*
Whey protein concentrate
16,98 g
**
Inulin
4,68 g
**
Calcium caseinate
2,7 g
**
L-Carnitine
210,3 mg
**
Bromelain powder
159 mg
**
Green coffee bean extract - chlorogenic acid
105 mg (47.3 mg)
**
Vitamin C
49.5 mg
61.9%
Vitamin E
4.8 mg
40%
Hyaluronic acid
9 mg
**
Niacin
8.1 mg
50.6%
Coenzyme Q10
6 mg
**
Vitamin A
439.5 μg
54.9%
Pantothenic acid
2.67 mg
44.5%
Vitamin D3
2.67 μg
53.4%
Vitamin B1
0.81 mg
73.6%
Vitamin B6
0.81 mg
57.8%
Vitamin B2
0.81 mg
57.8%
Folic Acid
106.5 μg
53.2%
Vitamin B12
2.4 μg
96%

* = NRV (nutrient reference values) ** = nutrient reference values are not established

Food supplements with sweetener; Alergens: whey, milk, soy
Nutrition declaration
U 100 g
U 30 g
Energy
1483 kJ / 353 kcal
445 kJ / 106 kcal
Fat
6,2 g
1,8 g
- of which saturates
3,3 g
1 g
Carbohydrate
15 g
4,4 g
- sugar
5,7 g
1,7 g
Fiber
16 g.
4,9 g
Protein
51 g
15 g
Salt
1,5 g
0,45 g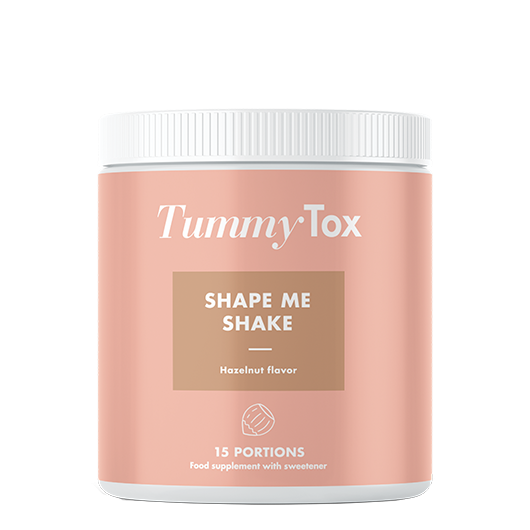 Shape Me Shake 1+1 FREE & FREE Shaker