Giovanna: "TummyTox helped me in many aspects of my life!"
Giovanna is not only one of the most loyal #TummyToxGirls in Italy, but she is also the administrator of a huge Facebook group , TummyTox Italia , which has thousands of fans from all over the world.

Giovanna wanted to share her story with us: a 7-year journey that shows us that, with a lot of will and the right choices, it is really possible to radically change your life and appearance. Even at 50!
For Giovanna, being overweight was a nightmare
"I was always slim, weighed between 55 and 60 kilograms at 170 cm. Unfortunately, due to severe depression, caused by a job loss and a separation, 7 years ago I gained over 20 kilograms very quickly and combined with the 7-8 kilograms that I gained after my 3 pregnancies - I was nearly 30 kilograms over my ideal weight."
"When I was overweight, I felt sad. I was unrecognisable, my belly was huge and my big eyes were unnoticeable due to how puffy my face looked."
"Because of this, my self-esteem almost disappeared. I cried in front of the mirror, I didn't know what to wear anymore. I always dressed in black and always in the same style. Often I didn't even want to leave the house, even though I have to say that my friends were always there for me. "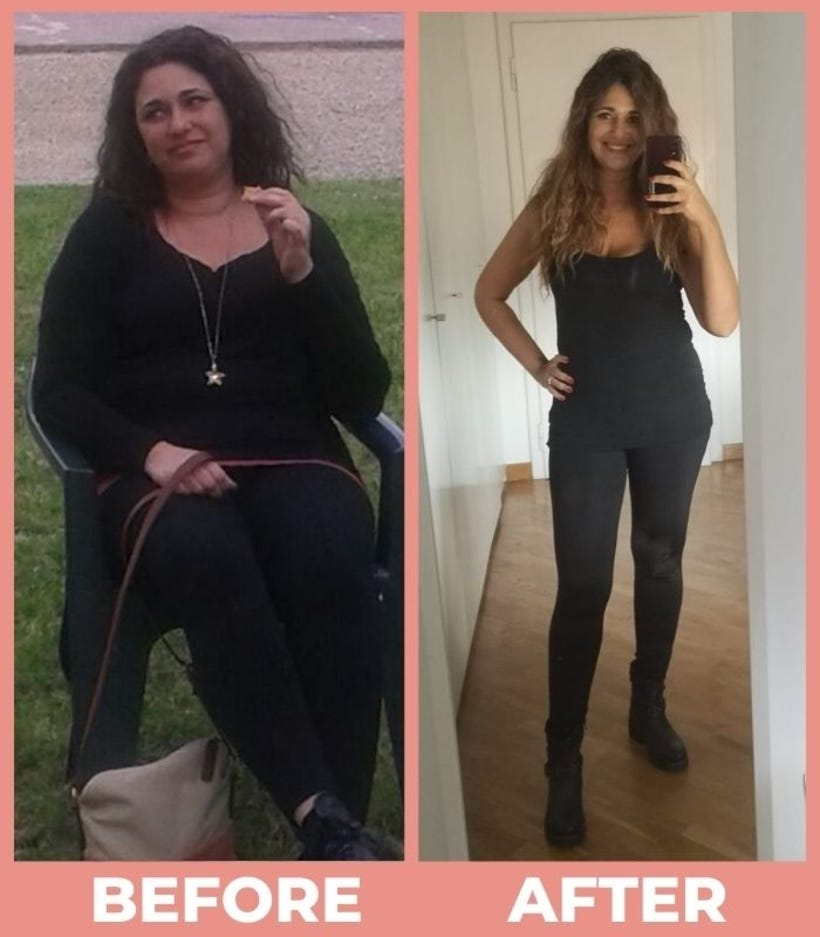 With time and a lot of patience...
Over the last 7 years, Giovanna has managed to lose most of the excess weight she accumulated during this dark period of her life. However, she still struggled with some stubborn problems: bloating, cellulite, water retention, cravings and low energy levels. In addition, the symptoms of perimenopause made it even harder to lose those last few stubborn kilos.
... Until she found TummyTox!
"I discovered TummyTox through a Facebook ad. The products immediately caught my eye due to the attractive pink packaging and the fact that they contain natural ingredients."
"Honestly, at first I thought it was like any other weight-loss brand, but I figured I had nothing to lose. Also, most of the comments and reviews left by other customers were positive ."
The first results after just fifteen days!
"The first thing I noticed was definitely a much more deflated belly after I started drinking Skinny Me Tea every morning. Later, I tried Draining Drink and noticed that it reduced cellulite and water retention significantly. "
"Thanks to Tummyccino, my problems with emotional overeating completely disappeared and I noticed an increase in energy. Among other things, I noticed my memory was better and my levels of concentration increased considerably."
"Now I feel much more comfortable with myself. I started buying new clothes, in shapes and colours that I never dared wear before and I feel much happier."
Now Giovanna can't do without TummyTox!
"So far, I've used virtually all TummyTox products. Many of them are now part of my daily routine and I don't intend to give them up. My favourite products are Skinny Me Tea, Tummyccino and Draining Drink."
"I also use Shape Me Shake as a meal replacement when I'm at work because it makes me feel full and energised, which helps me maintain a healthy diet at the same time."
"Other must-have products for me are the Daily Kick & Sleep Tight teas, Night Burner drink, all the L-Carnitine supplements (because I also exercise a lot now) and the Vitamin Gummies, which adore!"
"I recently bought the K-WOW cleansing face mask for my three teenage daughters!"
"TummyTox products have helped me in many ways: now I've gotten into the habit of drinking 2 litres of water per day and the products give me an energy boost! My routine now includes teas, drinks and supplements that help me cope with the difficulties of the day with much more enthusiasm!"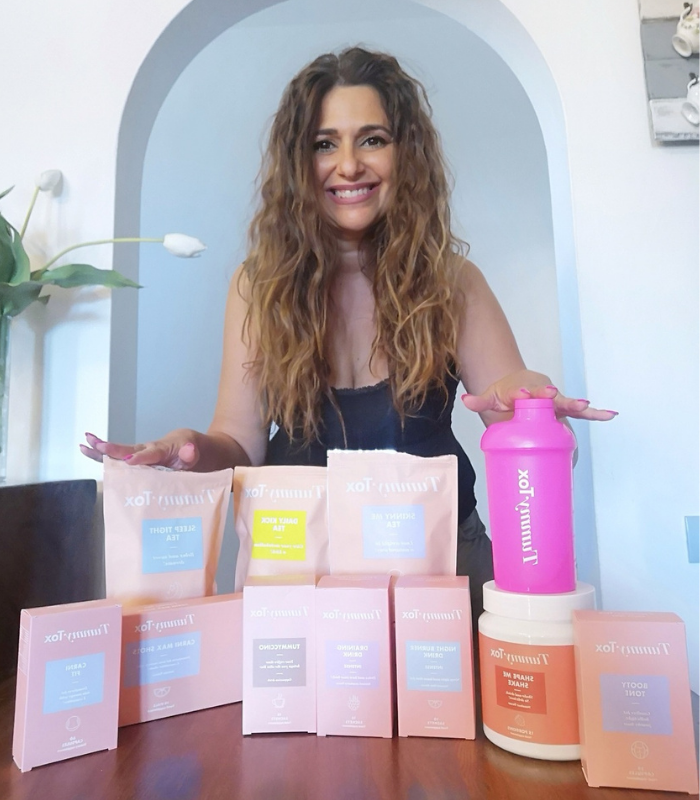 Want to start on your own weight-loss journey? These are Giovanna's tips!
Would you also like to lose weight and improve your well-being? These are Giovanna's tips!
Giovanna recommends the S.O.S. Bundle. This small but effective package is the ideal solution if you want to start your weight-loss journey with small steps!
This bundle includes 3 of our best-selling products, which will help you burn fat faster, boost your metabolism and shape your body.
Slim Tummy Caps stimulate weight loss with Garcinia Cambogia extract, which inhibits fat formation and help fight hunger attacks.
Draining Drink is a tasty raspberry drink that is very effective in combating water retention and cellulite in a short time.
Skinny Me Tea contains a mixture of plant and fruit extracts that stimulate fat burning and speed up metabolism.
*Disclaimer: The effects of the product may vary between individuals and could differ from those described on the website. Our products are not intended to prevent, treat or cure any disease or serious illness. Maintaining a  balanced diet and a healthy lifestyle is important.