Slim Babe Bundle + FREE Beauty Drink
The complete package for losing weight in 2 simple steps with our best-selling products for detoxing and fat burning! GIFT: Beauty Drink
The dream bikini body is now within reach!
A complete bundle for weight loss, detox and wellbeing
2 months
FREE GIFT

Our e-book filled with tips, tricks and tasty recipes + access to our online-gym!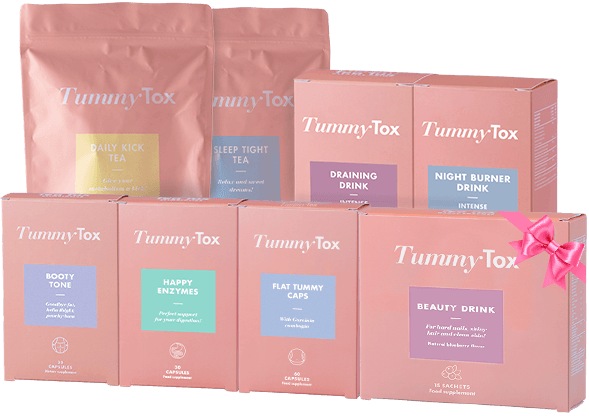 100% Money-back Guarantee on Satisfaction
Handled, shipped and delivered within 3-5 working days
Free shipping for orders over

£50
30-Day Money-Back Guarantee
If for any reason you are not completely satisfied, simply return the empty package and get a full refund. More
Buy
Try
Return
Money back
Free with your purchase!
Lose weight quickly and effectively, by combining our products with a healthy diet and regular exercise!
E-book with everything you'll need for a successful weight-loss journey! Delicious weight-loss recipes, an easy-to-follow shopping list and a ton of tips and tricks to help you get in shape in no time.
Additionally, you'll get access to our online-gym, filled with different types of exercises to tone your whole body! GET THE BODY OF YOUR DREAMS
Losing weight has never been easier! This complete 2-month weight-loss programme is here to give you the boost you need. Step 1: Detox the body, cleanse the liver and make fat burning more effective as a result. Step 2: Crank up the dial and watch the extra weight melt away. As a gift, we're giving you a box of our Beauty Drink for FREE - for healthier nails, hair and skin to really make you glow at the beach.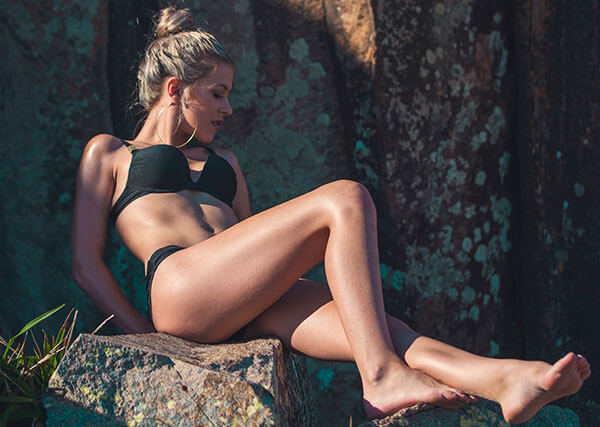 Reduces water retention and helps detox the body
Accelerates metabolism and improves digestion
Keeps appetite under control
Supports fat burning day and night
Reduces waist- and thigh circumference
Helps improve the muscle-to-fat ratio
Hydrolysed marine collagen for stronger nails, thicker hair and more radiant skin
HOW DOES IT WORK?
This is the complete weight-loss package with just 2 simple steps, featuring best-selling products for detox and fat burning!
1st STEP: DETOX
In the first 20 days, our tea duo Daily Kick & Sleep Tight will help you detox. This will help boost your metabolism. Our Draining Drink will help you reduce water retention and remove toxins from your body and kick-start weight loss. Happy Enzymes will support a healthy intestinal flora.
2nd STEP: SLIMMING
Now it's time to burn that stubborn fat! Flat Tummy Caps will help reduce a feeling of hunger and help prevent new fat accumulation.
A Booty Tone capsule after lunch will activate your "skinny hormone" - adiponectin, which stimulates fat burning. It will help you target stubborn fat reserves around the stomach and thigh area.
Night Burner Drink will make sure you burn as many calories as possible while you sleep, while also helping you sleep better!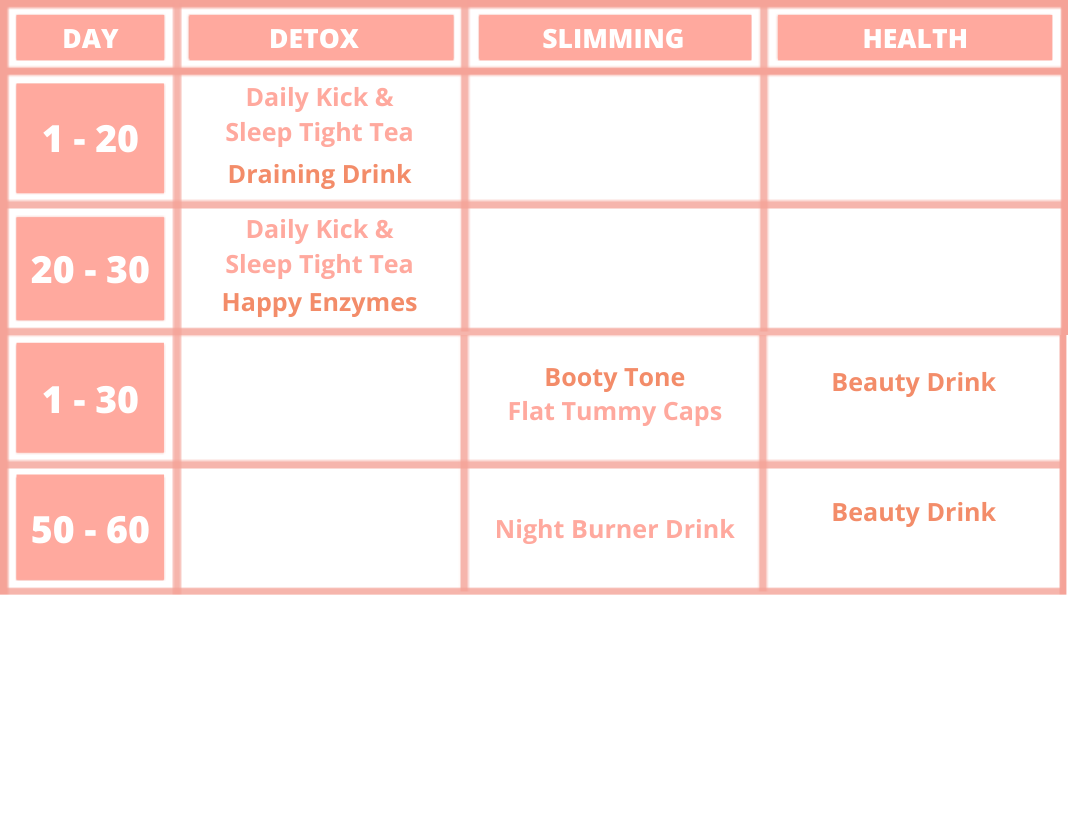 WHAT'S IN THIS BUNDLE?
Only top-quality products, from natural ingredients, perfect for weight loss, detoxification and general wellbeing.

Slim Babe Bundle + FREE Beauty Drink