3 autumn soups for weight-loss
There's something magical about autumn. The golden leaves, the cosy sweaters, and, of course, those delicious soups that warm your soul and fill your belly.  
Pumpkins, leeks, corn, broccoli, carrots, cauliflowers, and other veggies are practically calling your name from the local farmer's market stands, tempting you to whip up a delicious, heartwarming dish.   

When prepared with the freshest autumn produce, soups can be incredibly nutritious and filling, ensuring you feel full without overindulging. And they can even support your slimming efforts.  Our autumn soups are crafted to be low in calories but rich in both nutrition and flavour. Whether you're following the soup diet or simply looking to mix up your existing meal plan, they are an excellent choice. 
The following weight loss soups are easy-peasy, super quick to whip up, not to mention oh-so-delicious. Whether you're thinking of a hearty lunch or a comforting dinner, these autumn soup recipes have got you covered. And here's a little secret - soups always taste better the next day. So, make a big batch, store it in the fridge, and have tomorrow's lunch waiting for you stress-free. 
Velvety carrot and ginger soup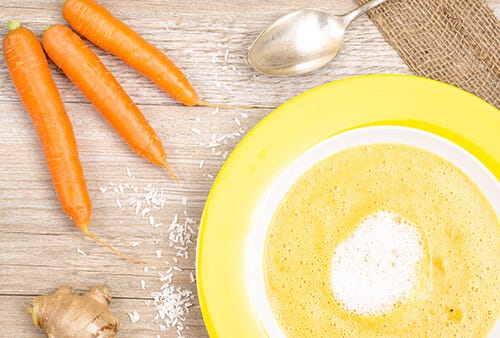 Autumn is the season of vibrant colours, and this velvet carrot and ginger soup perfectly captures the season's essence with its rich orange hue. The natural sweetness of carrots pairs harmoniously with the zesty kick of fresh ginger, and the coconut elements add a creamy twist, making every spoonful a comforting delight for those chilly evenings. 
Ingredients: 
1 tbsp coconut butter 
1 medium size onion, chopped 
2 cloves garlic, minced 
1 tbsp fresh ginger, grated 
400 g carrots, cut into chunks 
1 l vegetable broth 
200 ml coconut milk, canned 
Salt 
Black pepper 
Preparation: 
On a low heat melt coconut butter, add chopped onion and cook for about 10 minutes until it softens. At that point, add ginger and garlic and continue to cook for about a minute. 
Add carrots and vegetable stock to the pot, bring it to a boil, then lower the heat and simmer for about 30 minutes or until the carrots have softened. The time may vary, depending on the size of the carrot chunks. 
Once the carrots are soft, blend everything with an immersion blender. 
Bring back to boil; add salt and pepper to taste. 
Finally, stir in some coconut milk. 
Butternut squash and chicken stew

Dive into the autumn with this hearty stew. Tender chicken melts with the earthy sweetness of butternut squash, while the cannellini beans add a touch of creaminess. This stew is a delightful blend of flavours and textures, perfect for a nourishing, weight-conscious meal on a crisp autumn day. 
Ingredients: 
Olive oil 
300 g chicken thighs, cut into bite-size pieces 
2 tbsp all-purpose flour 
1 onion, finely sliced 
2 garlic cloves, minced 
300 butternut squash, diced 
200 g potato, diced 
1 l chicken stock 
1 can diced tomatoes 
1 can cannellini beans 
Salt 
Pepper 
Parsley 
2 bay leaves 

Preparation: 
Heat olive oil in a large pot over medium-high heat. Toss chicken with flour and add to the pot. Season with salt and pepper to taste. Cook chicken until lightly golden for about 10 minutes, stirring occasionally. 
Add sliced onion and cook for about 5 minutes until the onion softens. 
Add minced garlic cloves, butternut squash and potatoes to the pot. Ensure the squash and potatoes are diced in approximately the same-sized pieces so they take the same time to cook. 
Pour in the chicken stock, diced tomatoes and bay leaves. Season with salt and pepper to taste.  
Cook for 30-35 minutes or until the vegetables are nice and tender. About 10 minutes before the end, add in drained cannellini beans. 
Remove bay leaves and stir in chopped parsley. 
Green soup with mushrooms and orzo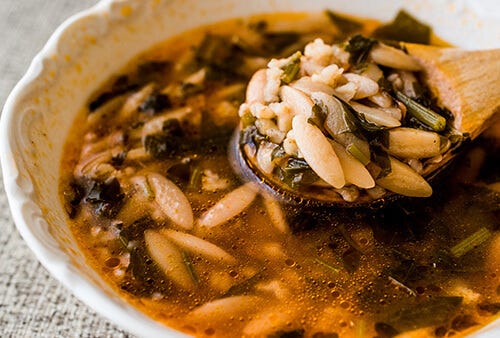 Explore everything autumn has to offer with this green soup. Broccoli and kale bring vibrant freshness, which pairs well with the earthy mushrooms and hearty orzo. Topped with a hint of basil pesto, it's a simple yet nutritious meal, perfect for a light but comforting dinner.
Ingredients:
100 g orzo

Olive oil

1 shallot, finely diced

200 g button mushrooms, sliced

2 garlic cloves, minced

150 g broccoli, cut

1 l vegetable or chicken stock

150 g kale, chopped

Salt

Pepper

Basil pesto
Preparation:
Cook orzo according to the instructions on the package.

Heat olive oil in a large pot over medium-high heat. Add shallots and cook for about 10 minutes until softened, stirring occasionally.

Add mushrooms, salt to taste and cook for about 5 minutes until the water from the mushrooms evaporates. This step ensures mushrooms get a deeper nutty flavour.

Add garlic and cook for about a minute, then add the broccoli and pour over the stock.

Season with salt and pepper and cook for about 20 minutes or until the broccoli is tender.

For the last 2 minutes of cooking, add in chopped kale leaves and orzo. 

Serve with a dollop of basil pesto per plate.
As the leaves continue to fall and the air grows crisper, let these soups bring you comfort. Embrace the flavours of autumn and nourish your body with every delightful spoonful.