Three irresistible summer salads that add some colour to your diet
The first image that pops into your mind when you hear the word salad is probably lettuce, lettuce and even more lettuce. And hey, we have nothing against it; it's delicious and healthy. We're just saying that salads don't need to be prepared only with leafy green vegetables; you can make them so much more enjoyable, especially in the summer, when nature offers us an abundance of fresh produce and herbs.

And did you hear about the latest trend among salad lovers? It consists of mixing vegetables and fruit to create something truly unique. Yup, you heard us right! It may blow your mind, but combining sweet fruits with vegetables is a match made in heaven. And if you're not sure about the whole salty-sugary combination, just stay with us. We're sure the recipe we have prepared will change your mind.  
But don't worry; if you're not feeling adventurous today, we've also included two more traditional but still delish recipes on our list.  
Why salads are the perfect summer food
Let's be honest; the last thing we want to do on scorching summer days is spend hours sweating behind a stove to prepare a healthy and filling meal. Sadly, our body doesn't care about the weather; it still wants some food, making this the perfect opportunity for salads to step up to the plate. They are healthy and easy to make, can be prepared in advance, and you can take them anywhere you go. Now, let's turn to the recipes.
Mouth-watering r

oasted chickpea salad
This one is for all the vegans out there. We made sure to include a mix of filling leafy greens, proteins, and healthy fats. And we've even included a dairy version of the dressing for your non-vegan friends.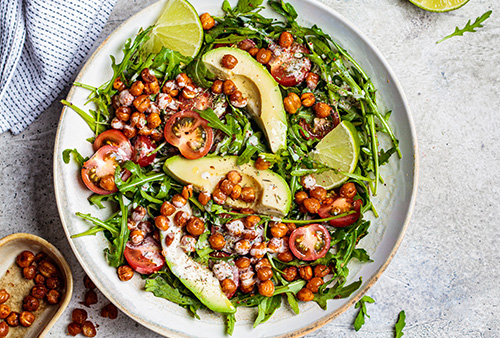 CHICKPEAS:
100 g canned chickpeas, drained 
Olive oil 
Salt 
Smoked paprika 
Chilli flakes 
DRESSING: 
2 tbsp of vegan yoghurt (or full-fat Greek yoghurt if you're not vegan) 
1 tbsp tahini 
1 tsp mustard 
A squeeze of lemon juice 
A pinch of salt 
1 tbsp freshly chopped chives 
Water (if needed) 
SALAD: 
Your favourite green lettuce (romaine, iceberg, endive) 
A handful of arugula 
½ red onion, thinly sliced 
½ avocado, diced 
Red and yellow cherry tomatoes, halved 
INSTRUCTIONS:
 Dry chickpeas with a paper towel. Heat a skillet over medium-high heat. Add a drizzle of olive oil and chickpeas. Sprinkle them with salt, smoked paprika, and chilli flakes. Roast for 10 minutes or until they are nice and golden brown, stirring every few minutes. Transfer to a plate and let them cool slightly. 
While chickpeas are roasting, prepare the dressing. Put all the ingredients in a small bowl and stir. Add some water if the dressing is too thick. 
It's time to assemble your salad. Place lettuce, arugula, onion, avocado, cherry tomatoes and chickpeas in a large bowl. Drizzle with dressing and toss to combine. 
Quick Italian-inspired farfalle pasta salad 
This pasta salad screams Roman Holiday! Farfalle, olives, tomatoes and mozzarella bring the essence of Italy to your plate. We can just see ourselves enjoying this dish on a balcony overlooking a famous piazza, can you?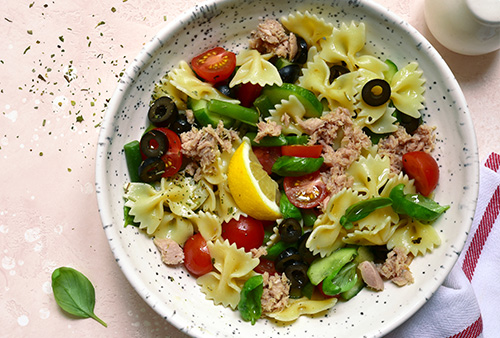 INGREDIENTS: 
50 g farfalle pasta 
80 g canned tuna 
A handful of black olives, pitted 
50 g cherry tomatoes, halved 
1 small cucumber, diced 
60 g mozzarella, cut 
Basil 
Peper 
Salt 
INSTRUCTIONS:  
Cook pasta al dente, then let it cool completely. 
In a bowl, mix farfalle, tuna, tomatoes, olives, cucumber and mozzarella. Drizzle with olive oil, salt to taste, add freshly ground black pepper, and toss to combine. Garnish with chopped basil. 
PRO TIP: buy olives with pits (they are much more flavourful) and remove them yourself. 
Refreshing watermelon salad with feta and mint
We promised you a salad with fruit, and here it is – our top pick with the staple summer ingredients is guaranteed to convince even the pickiest eaters.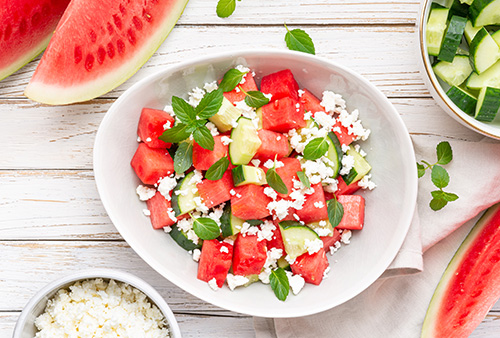 INGREDIENTS: 
150 g watermelon, deseeded and cubed 
1 medium-sized cucumber, diced 
80 g feta, crumbled 
½ bunch mint 
Olive oil 
1 tbsp balsamic vinegar 
INSTRUCTIONS:  
In a serving bowl, combine watermelon, cucumber and feta. Add salt to taste, drizzle with olive oil, balsamic vinegar, and toss to coat.  
Garnish with chopped mint for added freshness. Cool in the fridge for a few hours before serving. 
We know, we know, now you want to rush to the shop and buy all the ingredients and get cooking. Don't let us keep you. Happy slicing and dicing!