5 Meal Prep Ideas for the Busy Bee
Life's like a non-stop rollercoaster, right? Between work and family, making sure you don't skip Friday night cocktails and catch-up with your BFF, maintaining a consistent workout routine, and, oh yeah, trying to find time for yourself, you probably have a lot on your plate.   
It's no wonder that maintaining a healthy diet on top of everything can sometimes feel like trying to catch a unicorn – impossible!  
The challenges of maintaining a balanced diet 
The struggle to keep up an easy-to-follow diet plan is all too relatable. With limited options for healthy takeout at work, snacks at the desk (and let's be honest, we're not talking carrots and apples), and those tempting late-night treats, extra calories manage to sneak up on you without you even noticing.  
And what's the result? Not the desired weight loss, that's for sure. If anything, those unhealthy food choices start piling up in the form of extra kilos and show where you least want them: tummy, thighs and bottom. 
But don't worry; we'll share the juicy details of a game-changing secret that will put you back in control. 
Say hello to the ultimate solution – meal prep  
If you've spent time scrolling social media in the past few years, you've likely come across the #MealPrep hashtag that usually appears every Sunday. And while those picture-perfect meals and colour-coordinated containers look beautiful, they can also make meal prep look way more complicated than it needs to be.   
Luckily, we're here to prove that meal prepping doesn't have to mean an entire Sunday lost to chopping and dicing vegetables only to eat the same meal Monday through Friday.
Our recipes offer healthy and balanced options, designed to be whipped up, either entirely or partially, in 30 minutes or less the evening before, making them the perfect choice even when you're rushed for time. 
Monday
Colourful Mexican bowl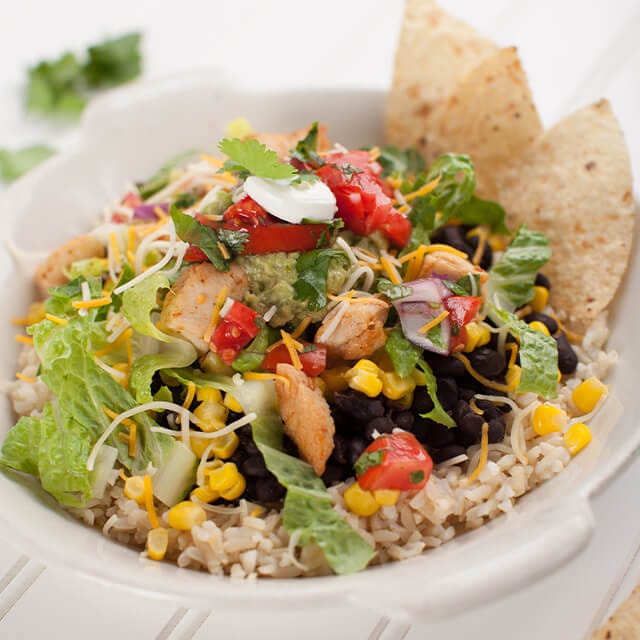 It's Monday, the dreaded first day of the work week, and you're probably wishing to be anywhere else than the office. We suggest Mexico. And while we can't actually take you there, this colourful bowl with Mexico-inspired flavours will transport you to the land of white sandy beaches, at least during your lunch break.   
Note: You'll prepare more rice, chicken and Pico de Gallo than you need for this dish because you'll also use all three for some of the other recipes throughout the week. Make sure to store all three in an airtight container in the fridge. Chicken and rice last up to 4 days, and Pico de Gallo is good for up to 5 days. 
Ingredients: 
140 g brown rice 
140 g chicken breast (or tofu if you're vegetarian), diced in 2 cm cubes 
½ large red bell pepper, sliced 
50 g canned corn 
50 g canned black beans 
For Pico De Gallo: 
3 medium tomatoes 
½ medium red onion 
½ jalapeño pepper (optional) 
Coriander (if you're not a fan, you can use parsley or simply omit it) 
½ lime or lemon 
Other: 
Olive oil 
Salt 
Black pepper 
Chili powder 
Preparation: 
Cook brown rice according to the instructions on the packaging.  
In a large pan, heat the oil over medium-high heat. Add the chicken to the skillet, season with salt and chilli powder and cook until golden brown.  
To prepare Pico de Gallo, dice tomatoes, onion and jalapeno. Add to a bowl, season with salt, black pepper, lime juice, chopped coriander, and mix well.   
To assemble the bowl, spoon half the cooked rice in your lunch box and top with half the chicken, corn, beans and sliced pepper. In a separate container, pack Pico de Gallo that you can add to the bowl right before you eat. Store in the fridge. 
TIP: This bowl can be enjoyed cold or warmed up in the microwave. If you plan to warm it up, we recommend sautéing the bell pepper for a few minutes with a bit of olive oil. 
Tuesday
Healthy Mediterranean salad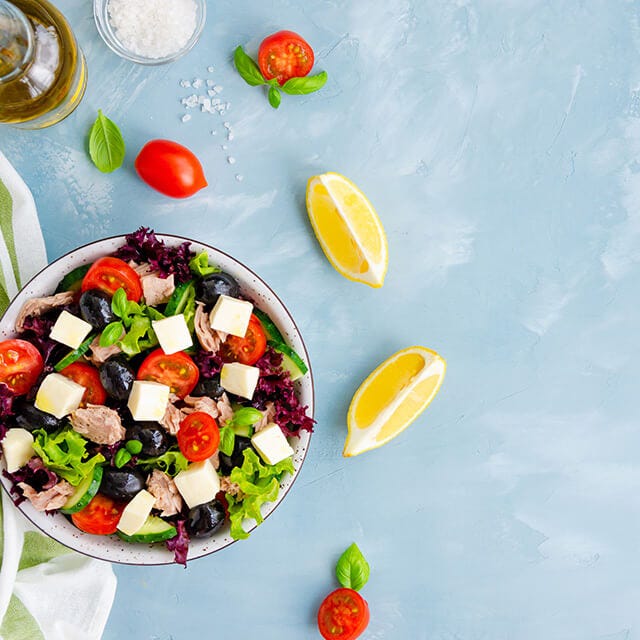 Forget Taco Tuesday; we're making it all about salads! A big bowl of healthy, leafy greens will keep you full, plus make you feel good about your food choices. 
Ingredients:
Romaine, iceberg, radicchio, or rocket  
1 can of tuna 
50 g feta cheese 
A handful of tomatoes 
A handful of black olives 
½ medium red onion 
For the dressing: 
Olive oil 
Salt 
Vinegar 
Pepper 
A clove of garlic 
1 tsp mustard 
Preparation: 
Chop the lettuce and tomatoes and thinly slice half a red onion. Put everything in your lunch box and top with drained tuna, olives, and crumbled feta cheese.  
In a separate jar, prepare the dressing. Combine olive oil, vinegar, salt, pepper, a teaspoon of mustard and a minced garlic clove. When you're ready to eat, thoroughly shake the dressing to mix all the ingredients and pour over the salad. Store in the fridge. 
Wednesday
Egg-fried rice
The middle of the week is the right time to pop over to Asia and prepare a delicious and quick egg-fried rice that will be way better and healthier than any takeout. Even though brown rice is not authentic in stir-fries, we're taking some creative liberty to be efficient with our meal prep. 
Ingredients:
Brown rice (the half you have left from Monday) 
2 eggs 
2 spring onions 
60 g mixed frozen veggies, thawed 
3 tbsp soy sauce 
Sunflower oil 
Black pepper 
Preparation: 
Crack eggs in a small bowl and whisk them with a fork.  
Chop spring onion and separate the white from the green part.  
In a large pan, heat the oil over medium-high heat. Add the white part of spring onions and fry for 1-2 minutes, then add eggs and scramble them. Remove from the pan.  
Add the rice and thawed veggies to the pan, mix everything together and fry for a few minutes so that the rice gets slightly toasted and the veggies heat throughly. Add the spring onion and the egg back in.  
Lastly, add soy sauce and black pepper and mix well. Sprinkle with the green part of spring onion.  
Pack in your lunch box, store in the fridge and reheat in the microwave or enjoy cold. 
Thursday
Avocado & chicken wrap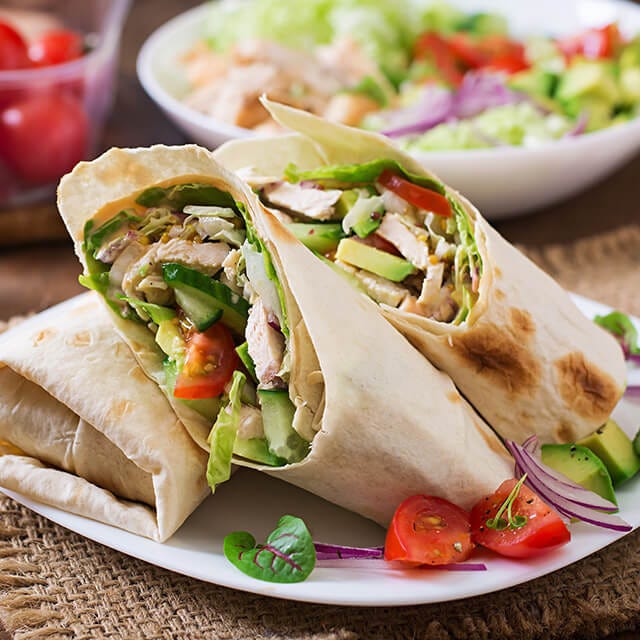 Wraps are all the rage right now! They are quick and easy to make, not to mention extremely practical because you can eat them on the go. Plus, they offer a versatile canvas for combining your flavours and ingredients. 
Ingredients:
2 whole-wheat tortillas  
Chicken (or tofu that you have left from Monday) 
½ avocado 
Shredded cheese 
Lettuce 
Pico de Gallo (also left from Monday) 
Salt 
Black pepper 
Preparation: 
Cut into the tortilla from the centre toward the edge. The open side must be facing you.  
Put the chicken in the bottom left corner of the tortilla.  
Spread Pico de Gallo in the top left corner and top with some lettuce for added freshness and crunch.  
Mash ½ of the avocado with some salt and pepper and spread some of it in the top right corner.  
Lastly, sprinkle the shredded cheese in the bottom right corner.  
It's time to fold: Start with the chicken quadrant and fold it over the lettuce, then the avocado and finally the cheese. Repeat the whole process with the second tortilla.  
Heat a nonstick pan over medium-high heat and cook the tortillas for 2 minutes per side or until they are slightly golden and crispy. Store in the fridge and enjoy cold or reheat in the microwave. 
Friday
Simple end-of-the-week sandwich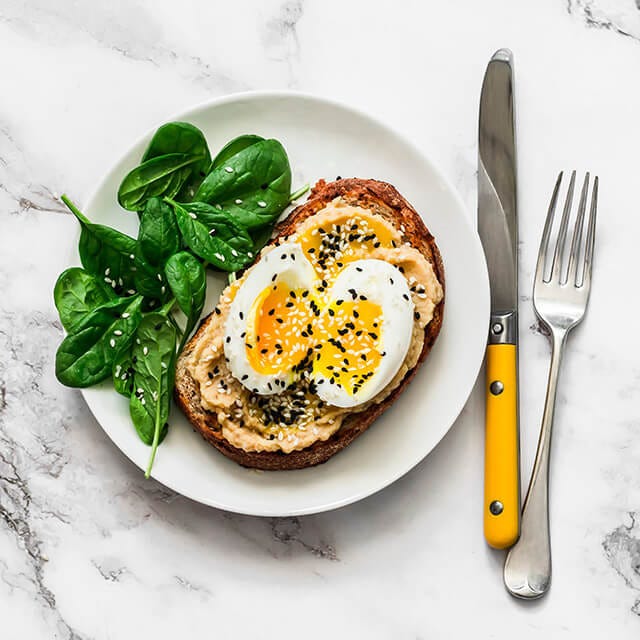 For Friday, we're keeping it simple. We're sure you have some fab dinner plans with your friends or your other half, and you'll likely indulge your taste buds in some exotic food, so we wanted to keep the lunch light and healthy. 
Ingredients: 
Ciabatta with olives 
A few tablespoons of hummus 
1 hardboiled egg 
1 medium tomato 
Feta cheese 
Salt 
Black pepper 
Preparation:
Cut the ciabatta in half and spread hummus on it. Top with hardboiled egg, tomato slices and feta. Store in an airtight container to keep it fresh. 
Keep in mind, that cooking is about having fun. Use the above recipes as a starting point and set your creativity free; there are countless options you can explore. Bon Appetit!