Stanislava : ​​​​​​​"I started to feel the first changes after a few days.​​​​​​​"
Stanislava comes from Slovakia. She works as a masseuse in a social welfare institute where she cares for integrated children. She spends her spare time with her two children and husband, and she loves to go jogging, relaxing her muscles and mind. Through all these years, her weight had fluctuated, especially after two births when she gained 35* kg. Thanks to TummyTox, she found the solution, and after a few months of using TummyTox products, she managed to lose weight and now feels much better about herself.

"I have tried many products so far, but only

TummyTox

products really work!

"
"I came across the TummyTox products on the internet. At first, I just wanted to try the products out of curiosity, and I have been using them for a year now. The composition and use of the products are very well explained. In the beginning, I tried two products, and then I gradually started ordering more. I am 100% satisfied with the products. I often order them and have recommended them to my friends who also use them. I have tried many products so far, but only TummyTox products really work. I really recommend them to everyone; they are great!"
"After using them for a month, I was more than surprised by their effects."
"After using them for a month, I was more than surprised by their efficiency. They helped me lose weight, maintain my shape, gain weight without the yo-yo effect, and get rid of excess water. So, one month later, I ordered them again, and I've been using them ever since! Also, they are made with natural ingredients and are free of colourings. I can't recommend these products enough!"
Did you know...?
Losing water weight can have a

highly motivational effect

 since it can happen fast, is visible on the scale and helps your clothes fit better.

Water retention is also connected to toxin build-up, so getting rid of excess water will have a detox effect on your body, improving your overall well-being.
Stanislava is a big fan of

TummyTox

products.
"I have been using TummyTox products for a year. The first thing I do at 7 AM when I get to work is drink Daily Kick Tea which stimulates digestion and boosts weight loss. Around 8:30, I take one of the Slim Tummy Caps, an appetite suppressant, and then I take another around 3 PM.
After lunch, I drink Fat Burner Drink Intense, which reduces fatigue and increases energy. Before dinner, I drink Sleep Tight Tea, which helps me lose weight during the night and avoid overeating in the evening. I also use Tummyccino, Draining Drink, Pure Me Tea, and Multivitamin Gummies. Recently I ordered the Booty Band and Shape Me Shake – a protein shake because I run a lot. I mix each drink in a TummyTox Shaker that I received for free."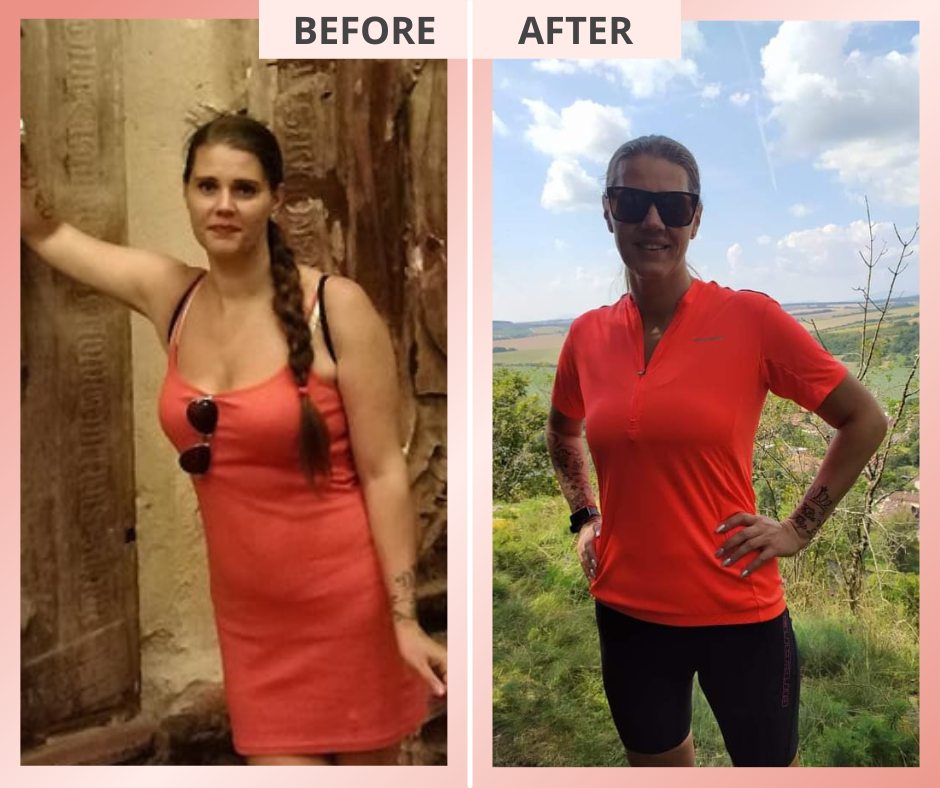 "I am one of those women who can recommend

TummyTox

products, as I have tried many of

them and

will try many more."
"I am 180 cm tall and weigh 69* kg, thanks to using TummyTox products for a year. I am one of those women who can recommend TummyTox products, as I have tried many of them and will try many more. I feel good, and it's great when everyone is giving you compliments and especially when you feel good and love yourself."
There's no weight loss without water elimination!
Yes, you heard it right. Efficient weight loss begins with flushing out excess water. One strawberry drink daily will flush out toxins and free you of bloating! The 3-in-1 Draining Drink supports long-term weight loss and weight maintenance, and it also eliminates toxins and excess water while helping you retain minerals.
And to eliminate evening cravings, Stanislava used our Slim Tummy Caps with Garcinia cambogia. This tropical fruit blocks your appetite, supports weight loss, and raises serotonin (happiness hormone) levels, which can affect your mood. Slim Tummy Caps will help you achieve a slimmer figure while improving your mood and raising energy levels!
Get yours with an incredible limited-time offer and start your weight loss journey today!
*Disclaimer: The effects of the product may vary between individuals and could differ from those described on the website. Our products are not intended to prevent, treat or cure any disease or serious illness. Maintaining a balanced diet and a healthy lifestyle is important.