Cindy: "I lost almost 2* kg in 12 days!"
Cindy is a personal care assistant, but she has been off work due to back pain since May 2021. In her spare time, she enjoys reading, watching TV series and spending time with her children

For over half a decade, Cindy tried to lose the weight she gained during her pregnancy, a plight many women face with great difficulty – and with varying degrees of success.
"Since then, trying to keep my weight under control has been a roller-coaster ride." But when she discovered TummyTox, her luck changed for the better. She started losing weight faster, gained a new appreciation for her body, improved her self-confidence and gained the motivation she needed to keep reaching for her goals! Read her inspiring success story below to see how she did it.
"The excess weight from my two pregnancies remained, even though I exercised and was careful about what I ate."
As with many women, her body changed drastically during pregnancy. "Before my pregnancy 6 years ago, I was feeling good about myself and I had confidence in myself. But then I completely lost my self-confidence."
"I gained 30* kg during the pregnancy and lost 20* kg afterward, but 1.5 years later, I became pregnant again, and I gained another 30* kg. I then lost another 20* kg, but the excess weight from the excess weight from the two pregnancies remained, even though I exercised and was careful about what I ate."
"I told myself it couldn't hurt - on the contrary, it could only do me good!"
Like many of our customers, Cindy found out about us online: "I saw an ad on Facebook and I read the comments, there were many positive ones and I said to myself why not try it."
"When I saw the products were natural, I told myself it couldn't hurt - on the contrary, it could only do me good! Besides, I love everything that is based on natural ingredients."
"I lost almost 2* kg in 12 days!"
Cindy started her TummyTox journey with a positive mindset, but minimal expectations. However, when she started using the TummyTox products she had ordered, their effects completely blew her expectations out of the water!
"After a few days, I noticed that my stomach was less bloated, even though I was 3 days away from my period, when I would normally be super bloated… Once my period was over, I weighed myself, it had been a dozen days since I had started, and I had lost 2* kg!"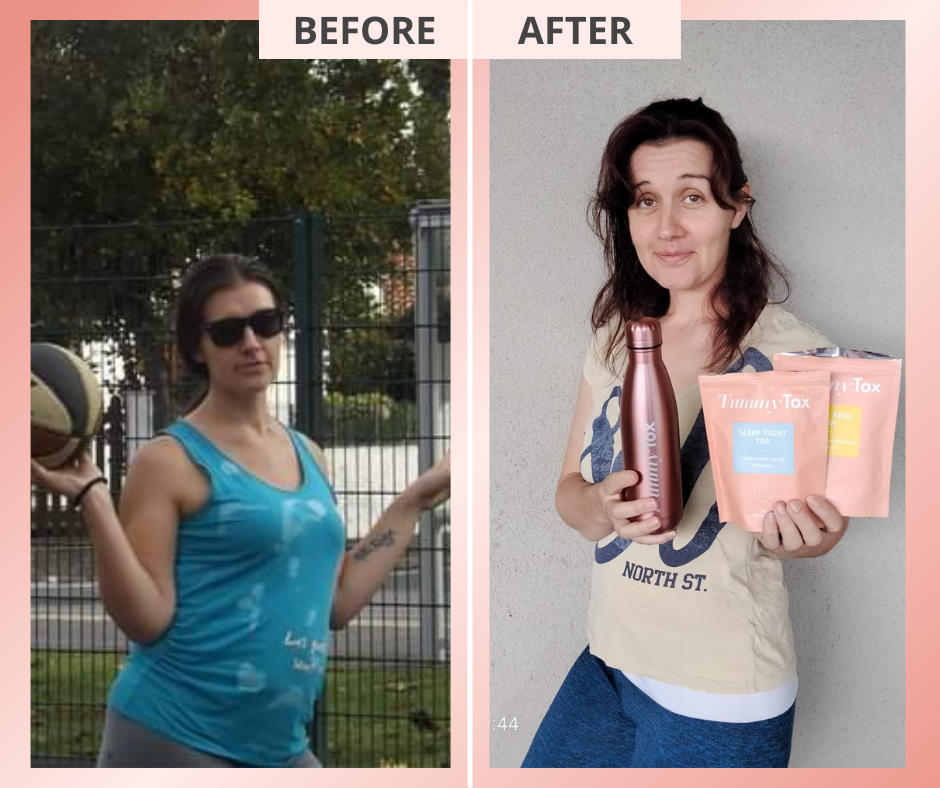 "My trousers became too large in the thighs."
"When I noticed that I had lost the first two* kilos, I was pleased and started to feel better. Then my trousers became too large around my thighs. At that moment, I was relieved, and it felt great. But there's more, I now feel more beautiful and lighter around the belly and less bloated." Keep reading to find out more about which products Cindy used to kick-start her successful weight-loss journey!
Did you know...?
• Water retention, or fluid retention, is when your body holds on to extra water and salt.
• Our bodies are mostly made up of water, and when (for whatever reason) your hydration levels are not right, your body will keep the excess water saved in case you need it.
•  Moreover, water retention is one of the most common symptoms of PMS.
• 92% of women are likely to experience excess water over the course of their cycles. 
How does it work? 
Cindy has tried many TummyTox products, but Sleep Tight Tea and Draining Drink are the ones that she particularly loves. They are also among the top favourites of hundreds of thousands of other TummyTox customers across Europe. Why, you wonder?
Draining Drink is a delicious strawberry drink that will help you eliminate excess water and shed extra weight. Now with added magnesium to support crucial body functions such as establishing electrolyte balance, reducing the feeling of tiredness, and it also contributes to normal muscle function. Just one strawberry drink per day will flush out toxins and free you of bloating!
With Sleep Tight Tea, a good night's sleep becomes easier. With herbs chosen for their relaxing properties, such as orange peel, hops, lemongrass, lemon balm and peppermint, your sleep quality will increase, which will improve your mood and energy the next day. The blend is also rich in antioxidants that help recharge your body during the night. Let this herbal lullaby sweep you off your feet and carry you to bed!
Get rid of water retention and that annoying sensation of heaviness and bloating that Cindy also experienced, and naturally supercharge your weight-loss potential today!
*Disclaimer: The effects of the product may vary between individuals and could differ from those described on the website. Our products are not intended to prevent, treat or cure any disease or serious illness. Maintaining a  balanced diet and a healthy lifestyle is important.
Sources:
1 Flux undies. Everything You Should Know About Water Retention and Periods. https://www.fluxundies.com/blogs/periods101/water-retention-periods
2 Shaikh, Jasmine (2021, July) How Do You Lose Water Weight? https://www.medicinenet.com/how_do_you_lose_water_weight/article.htm