Ana: "My pre-pregnancy jeans fitting again made me feel so happy and excited!"
Hi, I'm Ana Zambrin, I'm 25 years old, I live in the Sintra area and I recently became a mother. The experience of being a mother is wonderful, but no one tells us how the weight gain is going to haunt us. In my case, I gained 31 kg and it's very scary going from 67 kg to 98 kg in such a short period. 
On top of spending more time at home and enjoying cooking, I had a lot of problems in my way. I started diets and quickly dropped them as soon as an attractive plate of pasta or a piece of cake came my way...

I struggled to keep my energy up for my daughter,  I couldn't bear wearing my pregnancy clothes any longer and had a wardrobe full of clothes that no longer fit me. As soon as my daughter turned one, I decided it was finally time to take a hard look in the mirror and take better care of myself. I needed a change, for myself, my husband and my daughter.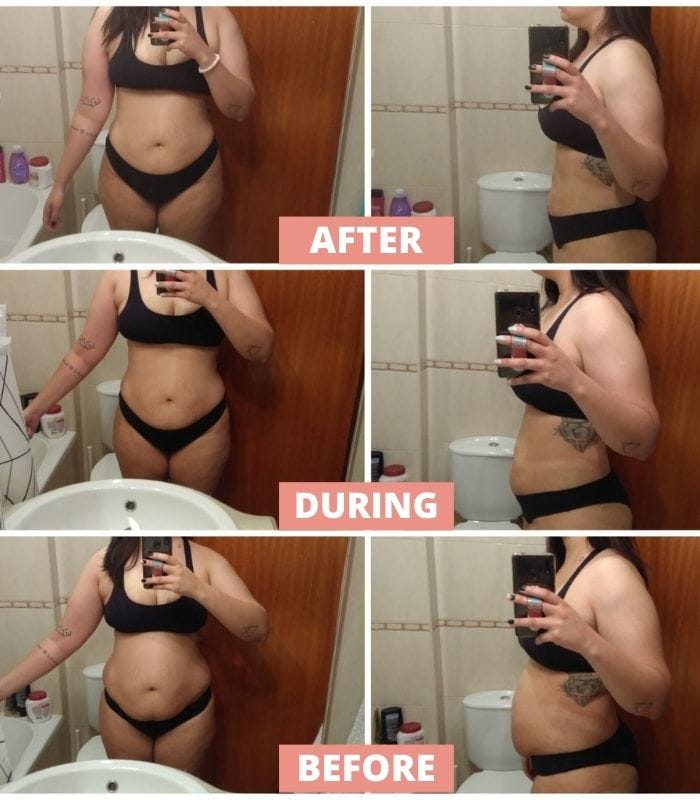 "Seeing that the ingredients were all natural made me fall in love"
I saw an ad for TummyTox on Instagram and it caught my attention. I checked the ingredients first and when I saw that they were all natural and that the supplements were easy to use… I fell in love right away!
Of course, I was also sceptical, as one is when seeing thinner women recommending products. The webpage featured several products for detox, weight loss, sports supplements and even vitamins. I ordered a little bit of everything and received my package quickly. I loved the drinks (they all tasted great), the easy-to-take capsules... That was very helpful in the beginning.
"I added TummyTox to my routine and saw the difference"
I changed my diet, added exercise and dancing (all from home), added TummyTox to my routine and saw the difference right away. I was less bloated, had more energy, stopped going to the kitchen all the time to snack, my metabolism started working properly again.
I had friends going through the same thing and when they saw the difference in me, they immediately asked what I was doing. I told them all about TummyTox and now they're on this journey with me, also seeing great results. 
"I have no regrets about trusting TummyTox"
I sleep much better these days with Sleep Tight Tea. In the morning I drink Daily Kick Tea which gives me the energy I need. Then I proceed with the Draining Drink and I feel that the water I'm retaining goes away in a flash. Fat Burner Drink is my constant companion during exercise and the Tummy Fit and Slimbiotics capsules help me a lot with eating only as much as my body needs. And of course, I can't forget about the delicious Gummy Vitamins.
There are still a lot of products from TummyTox that I would like to try, they're helping me a lot in taking better care of myself and in reaching my goals.
For me, it's been a great experience! I've already recommended the brand to several friends who are also enjoying it. But I will say that you also need to change your lifestyle a little bit, there are no miracle cures, but these are natural products that will boost progress and help you see a better version of yourself faster. Find out what you're looking for, believe in yourself and you'll get there too.
You deserve it! I have no regrets about trusting TummyTox, it was without a doubt the best investment in myself and my well-being.
The Bikini Ready Bundle is a superior combination of TOP products that will help you in the battle for a dream body and is the absolute champion in the battle against excess weight.
Fat Burner Drink is a strong fat burner that stimulates metabolism and accelerates calorie burning. It contains L-Carnitine, which greatly supports the effects of exercise, by increasing efficiency and accelerating muscle regeneration after workouts.
Draining Drink Intense is a true slimming ally. It's an effective diuretic and eliminates excess water and toxins from the body, reducing bloating and eliminating cellulite.
Skinny Me Tea is a top-quality blend of herbs and fruit extracts with active ingredients that helps you burn fat faster by accelerating metabolism and removing toxins.
Daily Kick & Sleep Tight is a tea duo that speeds up your metabolism, improves digestion, and is effective for detoxifying the body, day and night.
*Disclaimer: The effects of the product may vary between individuals and could differ from those described on the website. Our products are not intended to prevent, treat or cure any disease or serious illness. Maintaining a  balanced diet and a healthy lifestyle is important.