Ema: "I lost almost 2* kg in just 15* days!"
"My name is Ema, and I'm a social media specialist for TummyTox! Most of my spare time I spend going on walks with my dog, hiking or riding my bicycle. I also do yoga every day and exercise regularly. Because of my body type and my job, I try to spend as much time as possible moving or being active. But, of course, I don't mind relaxing with a good book or TV series! Today I wanted to share my personal journey with my body and TummyTox."

"Getting rid of those extra kilos became more and more difficult."
"During certain periods, I was either too skinny or too bloated and puffy. My weight has always fluctuated due to stress, but it usually stabilised around the same number on the scale."
"Eventually, getting rid of extra kilos became more and more difficult. My body changed. That's why I started paying more and more attention to what I eat and how much I move because managing my weight isn't as easy as it used to be."
"I realised my weight mattered to me way more than I thought it did."
"My body didn't really mean much to me in the past – either how it looked or if it was considered "healthy". I didn't focus on it because I felt I didn't have to." 
"But then I realised my weight mattered to me way more than I thought it did. I didn't feel great when my body shape or size didn't meet my expectations. I still feel the ups and downs in my mood and confidence whenever I look a bit puffy or put on a few kilos. It also affects the way I dress."
"Of course, TummyTox was my first choice, because I know what I'm working with."
"These products are fully natural and really cover everything you could possibly need - so I was able to pick exactly what my body needed. Now, I use TummyTox products all the time and I love them! Gluten-free, lactose-free and vegan?! Here you go, just pick what you need Ema. :)"
Mission: New Year's Resolutions!
"This year's resolution was really needed, so from the end of January, I started using the Lightning-Fast Slimming Bundle. The super-efficient trio of drinks: Draining Drink, Fat Burner Drink and Night Burner Drink. This was the 15-day programme that helped me get rid of retained water and toxins, which my body was full of after Christmas and New Years' feasts. It also helped me burn fat faster while exercising and sleep better, allowing my body to properly regenerate."
"I felt the effects right away"
"With the Fat Burner Drink, I felt the effects right away, because when I exercised I was able to do it for longer, I was faster and it was more effective. I really felt myself getting excited and feeling full of energy as my body temperature rose up, it's great!"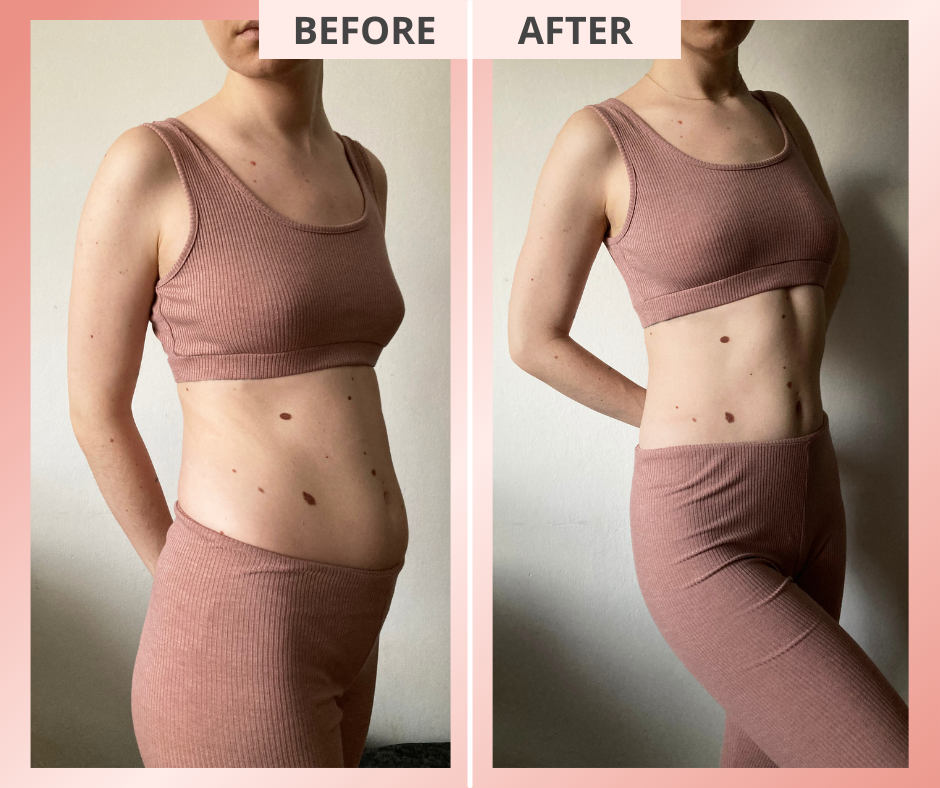 "The Draining Drink and Night Burner Drink reduced the puffiness in my belly and upper body in a few days. After the 15-day programme, I no longer felt puffy or had a bloated belly and that feeling of heaviness. My skin improved and my muscles were more defined – even my sleep and mood swings improved. I lost almost 2* kg! It was, to be honest, a bit surprising even for me, the way these products really delivered the results they promised!"
"Everything is possible"
"I love my body, even with all its faults! It gives me the space to constantly improve something! If you have the motivation and the tools, everything is possible. In this case, TummyTox provided all the tools I needed. Now, I don't need to put such a huge effort in improving myself to get the same or even better result."
"I still feel like I have a way to go on my journey of self-improvement, but TummyTox will definitely be by my side."
*The effects of the product may vary between individuals and could differ from those described on the website. Our products are not intended to prevent, treat or cure any disease or serious illness. Maintaining a  balanced diet and a healthy lifestyle is important.