Carolina: "Losing 4* kg in a month made all the difference!"
Hello everyone, my name is Carolina, I'm 26 years old and I manage a warehouse for a factory in Alentejo, which is also where I live...
I never had problems with my weight, until a year ago... At the beginning of the pandemic, I started putting on weight and it made me feel a little bit uncomfortable in my skin. It was obvious that it had a negative effect on me, I felt a lot more tired. My clothes started feeling tighter and tighter and I didn't feel good about my body anymore, I lost confidence. That's when I knew I needed to make a change.

I started using TummyTox products at the beginning of February when I weighed 67 kg. TummyTox was recommended to me by a colleague that was also using these products.
"TummyTox changed my life"
It was very helpful to see all the positive testimonials and the natural composition of the products immediately caught my attention. I decided to give it a try and the results were amazing. I can say for sure that TummyTox changed my life.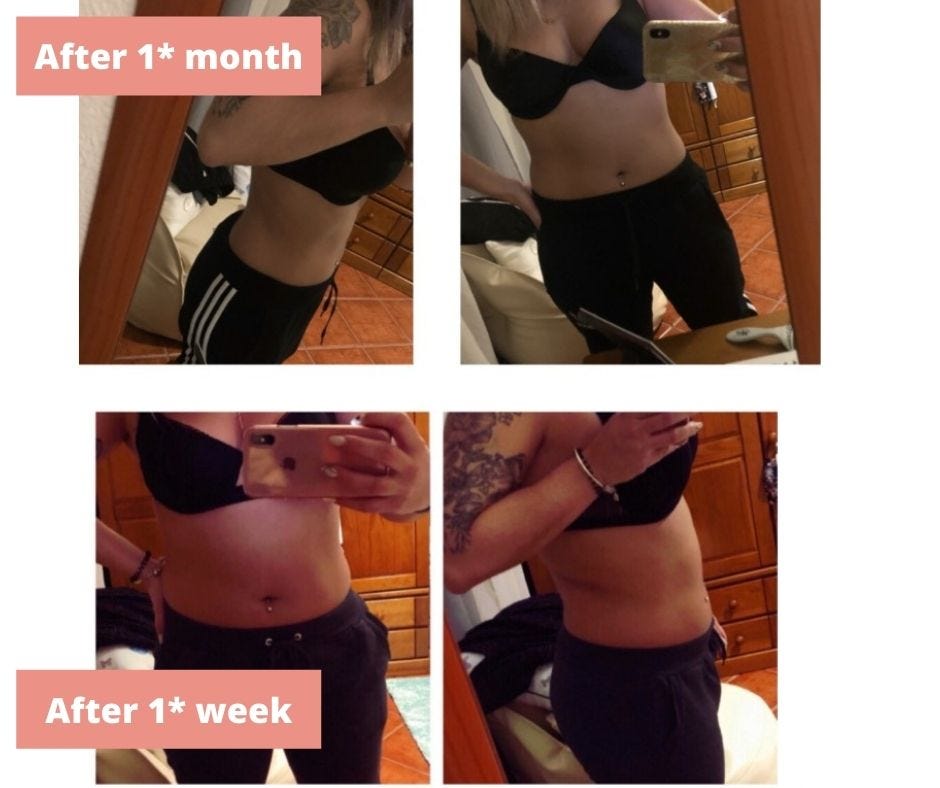 I decided to try the Ready, Set, Slim Bundle which helped me a lot with losing weight and reducing fat deposits. I felt more energetic and my metabolism got faster. I recommend using the products in this bundle for a whole month, that's where I started and had amazing results!
"After a month, I weighed 63* kg"
I started to feel the first effects in the first week, I took the Flat Tummy Caps in the morning and before lunch, then had the tea and the Fat Burner Drink half an hour before starting my daily exercise.
I quickly started to notice I was losing fat in the hips, legs and around the belly... And after a month, I weighed 63* kg.
"Of course, losing 4* kg in one month made all the difference"
These results brought me so much joy! I was immensely happy to be able to wear my old clothes again more easily, without them feeling too tight. Of course, losing 4* kg in one month made all the difference. I had to watch what I ate a little bit, but not an extreme amount and I still kept my habit of having a glass of wine with my dinner! :P
The experience was not complicated at all! I loved and still love the experience of using TummyTox and making it a part of my life... It's massively improved my self-esteem.
"Believe in yourselves! It really works..."
Try TummyTox now, believe in yourself! It really works, but of course, you have to put in a little effort, watch your diet a bit and maybe go for a walk every day... The products alone won't help you lose weight, but using them will boost your energy and make the results visible quickly.
I can only say that TummyTox has improved my life in all aspects - the improvements to my health, energy and weight made me even more confident. I became more motivated and determined to have a nicer figure and keep my self-esteem high.
Triple effect in one pack - Carolina's choice:
Our Ready, Set, Slim Bundle contains a detox tea, a fat-burning drink and capsules that help reduce appetite.
Fat Burner Drink is a strong fat burner that stimulates metabolism and accelerates calorie burning. Contains L-carnitine, which greatly supports our physical efforts, increases efficiency and accelerates muscle regeneration after training.
Flat Tummy Caps are an extraordinary natural weight-loss supplement with Garcinia Cambogia that help you lose weight quickly and safely.
Skinny Me Tea is a selected blend of herbs and fruit extract with active ingredients that help you burn fat faster by accelerating metabolism and by removing toxins.
For a complete transformation...
How much time are you willing to dedicate to a complete transformation? How does 2 months sound to you? That's exactly how long our intensive 60-day programme lasts and it combines our best-selling products with powerful effects.
*Disclaimer: The effects of the product may vary between individuals and could differ from those described on the website. Our products are not intended to prevent, treat or cure any disease or serious illness. Maintaining a  balanced diet and a healthy lifestyle is important.