Eduarda went from 105* kg to 74* kg in 6* months
Eduarda is one of our lovely customers from Portugal. By profession, she is a doctor whose life has taken her to heaven and hell. Thankfully, this is a story with a happy ending. 
"My body right now is perfect. But this certainly wasn't always the case. I had already tried a lot of different treatments to try to lose weight. I was very unhappy about being chubby, but nothing worked for me. I had so many clothes that I wanted to wear but couldn't. No one looked at me. I was invisible... I spent several years in deep sadness." 
"When I was young, I had a fantastic body. But then the kids came along, and things got a lot worse. Then came depression, which also reinforced the weight gain! It affected my whole life. It even got to the point of divorce, and I was traded for a woman much more elegant than I was at the time."  

Eduarda weighed 105* kg…
"...until I discovered TummyTox products on Facebook! I can't explain why, but I decided to order them. I think it was pure intuition. I think I was right… Today, 6* months later, I weigh 74* kg."
"Within just 15* days, pants that I hadn't been able to wear for years fit me again!"
"I started with the drinks – Draining Drink, Fat Burner Drink, and Night Burner Drink, the sachets of powder that dissolved in water – and I found them super practical. Because I liked them, I experimented and tried more products." 
"Within just 15* days, pants that I hadn't been able to wear for years fit me again! It was one of the happiest days of my life!" 
"Then my appetite decreased, I was in a better mood, and I had zero bloating. Oh, and the lightness… I started to feel so light. I also started hiking, and now I love what I see in the mirror. It certainly helps that I can wear everything today, I don't get so tired, and of course, I'm much happier." 
"Now, none of the clothes I was wearing 6* months ago fit me anymore, and everything is loose! They're big enough for me and a whole other person!" 
"I stopped being ashamed of myself and of going out on the streets."
"Now I feel beautiful, fantastic, wonderful. It wasn't easy being traded for being fat, but today, with this little body, I can do anything. Above all, I am no longer ashamed of myself and no longer ashamed to go out on the streets." 
"I have tried almost all the TummyTox products, and I definitely recommend them. I started my weight loss journey with the Lightning-Fast Slimming bundle, and later on, I did the 60-Day Dream Body programme!"  
"I am different, happier, more confident, more comfortable."
"At the moment, as I don't want to lose any more weight, I only use Draining Drink, which is my favourite, to maintain my perfect weight." 
"In these 6* months, I've made seven orders and tried almost all the TummyTox products, and I think I can say that I am an expert on the brand and can only recommend it."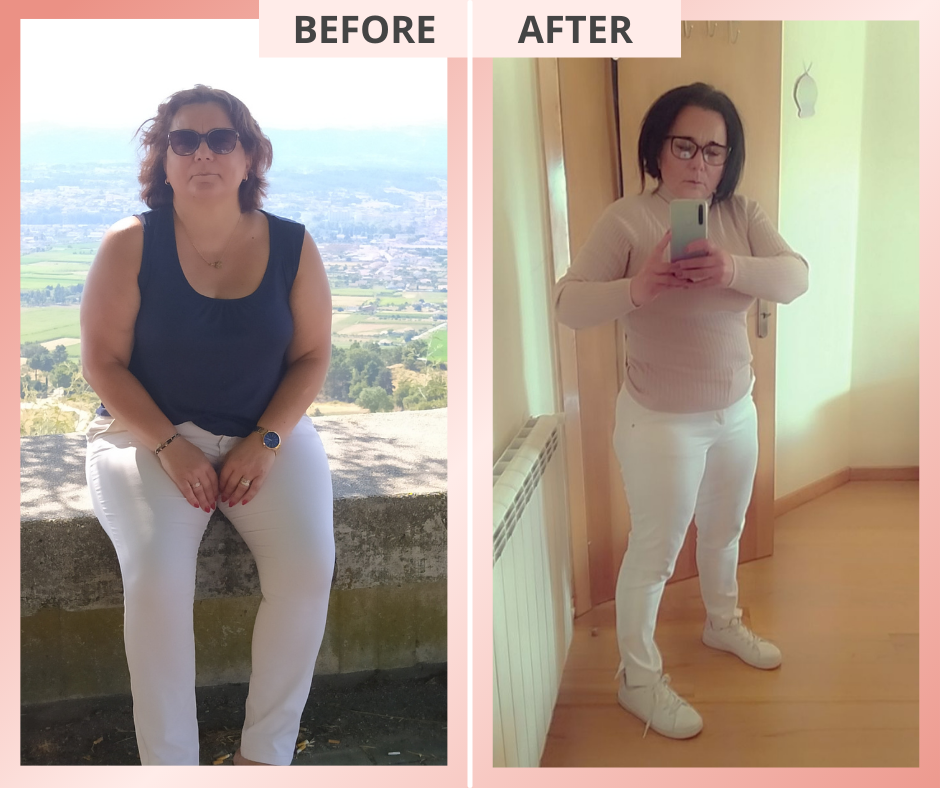 "I can say that I am different, happier, more confident, more comfortable. Today I'm thin, and I'm getting a lot of compliments. Of course, this makes me extremely happy." 
Lose weight quickly and efficiently thanks to the superb combination of the three drinks that simultaneously solve all obstacles on the path to weight loss: 
Start your day with the 3-in-1 Draining Drink! This delicious strawberry-flavoured drink kickstarts the weight-loss process by flushing out excess water and toxins, eliminating bloating and helping you achieve visible weight-loss results in just a few days. 
A glass of Fat Burner Drink in the afternoon will raise your body temperature to increase fat burning – especially during any physical activity! It contains the purest L-carnitine on the market to help you convert your body fat into energy and get rid of the fat that accumulates on your hips and belly! 
For a good night's sleep, drink Night Burner Drink before you go to bed! Not only will it help you get better sleep, but it will also help you avoid those late-night hunger pangs! Garcinia cambogia will help you reduce your appetite, melt fat and support weight loss. 
For a complete transformation… 
If I ask you how much time you're willing to dedicate to a complete transformation... Do two months sound good? Because that's exactly how long our 60-day intensive programme lasts, combining the best products for optimal performance. 
*Disclaimer: The effects of the product may vary between individuals and could differ from those described on the website. Our products are not intended to prevent, treat or cure any disease or serious illness. Maintaining a balanced diet and a healthy lifestyle is important.