3 dishes that will convince even the most avid veggie-haters
We all know that greens are undeniably healthy and packed with nutrients, but for some, the mere thought of munching on leafy vegetables is enough to send shivers down their spine. If you're nodding in agreement, you're not alone. But fear not, we've got some tasty tricks up our sleeves to make sure you not only eat your greens but savour them with joy.

Our mission is simple: to transform you from being a dedicated veggie-hater to an enthusiastic veggie-lover, one mouthwatering dish at a time. In this article, we're dishing up three recipes that embody the essence of healthy meal ideas - they're so rich in flavour, they'll convince you even if you're a die-hard veggie sceptic. Say goodbye to your veggie phobia and embrace our healthy fast food options.

Sticky Asian Cauliflower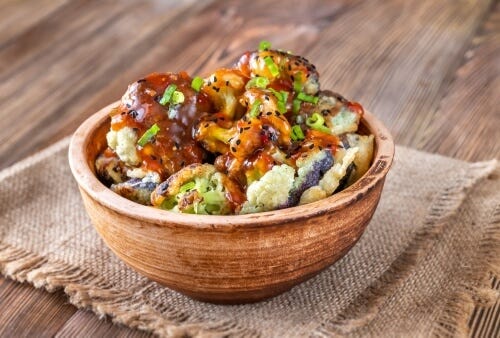 Prep time: 30 min | Cook time: 30 min | Difficulty: Easy | Serves 4
This recipe transforms cauliflower into a crunchy, sweet and spicy sensation. Perfect for those seeking healthy meal ideas, this dish not only satisfies your craving for something delicious but also makes eating your veggies feel like a culinary adventure.
Ingredients
150 g plain flour

35 g cornflour

1 tsp baking powder

310 ml sparkling water, chilled

350 g cauliflower cut into very small florets

Peanut oil for frying

Sesame seeds for garnish

3 spring onions, sliced

4 portions of rice
For the sauce
1 tbs peanut oil

3 garlic cloves, crushed

160 ml tomato passata

80 ml chilli sauce

80 ml water

2 tbs brown sugar

2 tbsp soy sauce

3 tsp rice vinegar
Instructions
1. To prepare the sauce, heat peanut oil in a wok (or a large pan if you don't have a wok) over high heat. Fry the garlic for 30 seconds or until aromatic. Add the passata, chilli sauce, water, sugar, soy sauce and vinegar. Lower the heat and cook for 15 minutes or until the sauce thickens. Stir occasionally. Set aside.
2. Cook the rice as per instructions on the package.
3. For the cauliflower, mix the flour, cornflour and baking powder in a large bowl. Slowly pour in the sparkling water and whisk to form a smooth batter. Toss in the cauliflower and coat it with the batter.
4. Heat 2cm oil in a large saucepan over high heat to 160 °C. Cook the cauliflower, in batches, for 3 minutes or until golden. Transfer to a plate lined with paper towels to drain the excess oil.
5. Return the wok with the sauce to the stove on medium heat. Toss through the cauliflower. Serve on a bed of rice, sprinkle with sesame seeds and spring onions.

Baked Broccoli Cheese Balls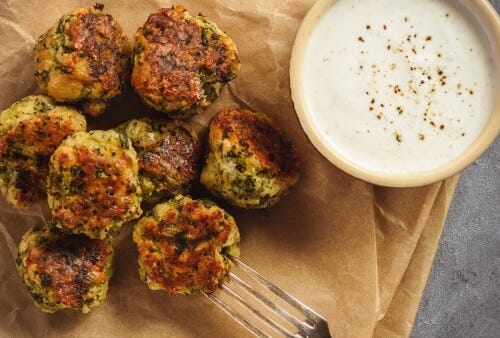 Prep time: 30 min | Cook time: 25 min | Difficulty: Easy | Serves 3

Looking for healthy fast food options that'll win over even the pickiest of eaters? These baked broccoli cheese balls are your golden ticket to flavour-packed and nutritious indulgence. They bring together the goodness of broccoli and cheese and you can serve them with our zesty yoghurt sauce for an extra burst of flavour.
Ingredients
400 g broccoli

125 g breadcrumbs

2 eggs

100 g shredded cheese 

2 shallots, finely sliced

2 cloves garlic, minced

Salt

Black pepper

Olive oil
For the yoghurt sauce:
160 g yoghurt

Zest of 1/2 lemon

1 tbsp lemon juice

½ garlic clove, minced

2 tsp extra virgin olive oil 

Salt and pepper, to taste
Instructions
1. Cook the broccoli in until tender, then once it's slightly cooled chop it into small pieces. They need to be small enough to mix well with the other ingredients.
2. Preheat the oven to 200 °C and line a tray with parchment paper.
3. Place all ingredients (except olive oil) in a bowl and mix well to combine.
4. Wet your hands with water so the mixture doesn't stick to them, then form balls. Place them on the baking tray and brush them with some olive oil.
5. Bake for 25 minutes, or until the surface is slightly crisp and golden.
6. While the broccoli balls are baking, prepare the yoghurt sauce by mixing all ingredients together.

Courgette Brownies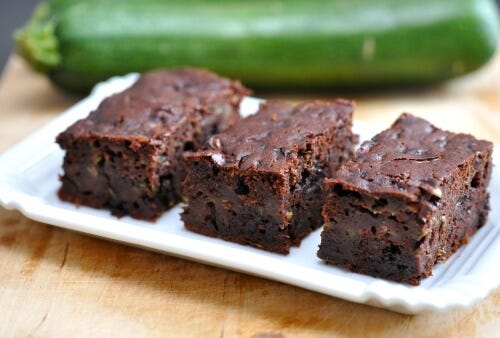 Prep time: 15 min | Cook time: 30 min | Difficulty: Easy | Serves 12
Looking for something sweet on your search for healthy meal ideas? These courgette brownies are your answer. The harmonious blend of chocolate and courgettes provides a guilt-free treat that will definitely satisfy your sweet tooth.
Ingredients
180 g white sugar

125 ml vegetable oil

2 tsp vanilla extract

250 g self-rising flour

20 g cocoa, sifted

2 eggs, lightly beaten

1 tsp salt

350 g courgette, finely grated

170 g chocolate chips

3 tbs pure icing sugar
Instructions
1. Preheat the oven to 180 °C (160 °C if you're using fan).
2. Line a 20 cm × 20 cm cake tin with parchment paper and set aside.
3. In a bowl, combine sugar, oil, vanilla extract, flour, cocoa, eggs and salt.
4. Pour the mixture into the cake tin and bake for about 30 minutes.
5. Let the brownies cool completely, then dust them with icing sugar and cut into squares.


We hope these recipes have transformed your perspective on veggies and you'll embark on even more culinary adventures. Happy cooking!