The secret to slimming - These women adore TummyTox teas!
We've heard so many exciting stories from our TummyTox tea lovers that we can't resist cooking up a blend – these girls have lost a lot of weight by burning more fat and boosting their metabolism. What's more, they noticed many other amazing changes: TummyTox teas have given them better digestion and sleep, and a boost of energy in their daily lives...

We want to share their excitement with you, so let's give voice to their bliss!
Ana is radiating confidence after losing 18* kg
Ana tried everything to improve her bad digestion, but nothing helped ease her discomfort until she tried TummyTox teas:

"I weighed 68 kg when I started drinking the teas and I went down to 50* kg in 6* months. I wasn't exercising heavily, just normal everyday things... I feel more energetic and confident!"
Paula lost 7* cm around her waist 
"I lost 7* cm around my waist and now I can exercise with more strength and motivation... Ever since I started drinking Sleep Tight Tea, I've been getting a good night's sleep every night. I used to sleep very poorly and woke up several times during the night."

Paula's day was also brightened by Daily Kick Tea: "It helped me improve my well-being and mood."
Natália's swelling is gone! Changes in only 3 days*
"My self-confidence reached zero. No matter what I ate, my stomach was always visible under my shirt."
She started using our amazing Daily Kick and Sleep Tight Tea duo and the bloating disappeared: "I felt the first changes only after 3* days."
Klaudia is now stress-free & well-rested – an energy bomb!
Klaudia lost 3* kg in a month: "I feel that my metabolism has really improved. The teas have reduced my appetite and I have so much energy that I could give some of it away."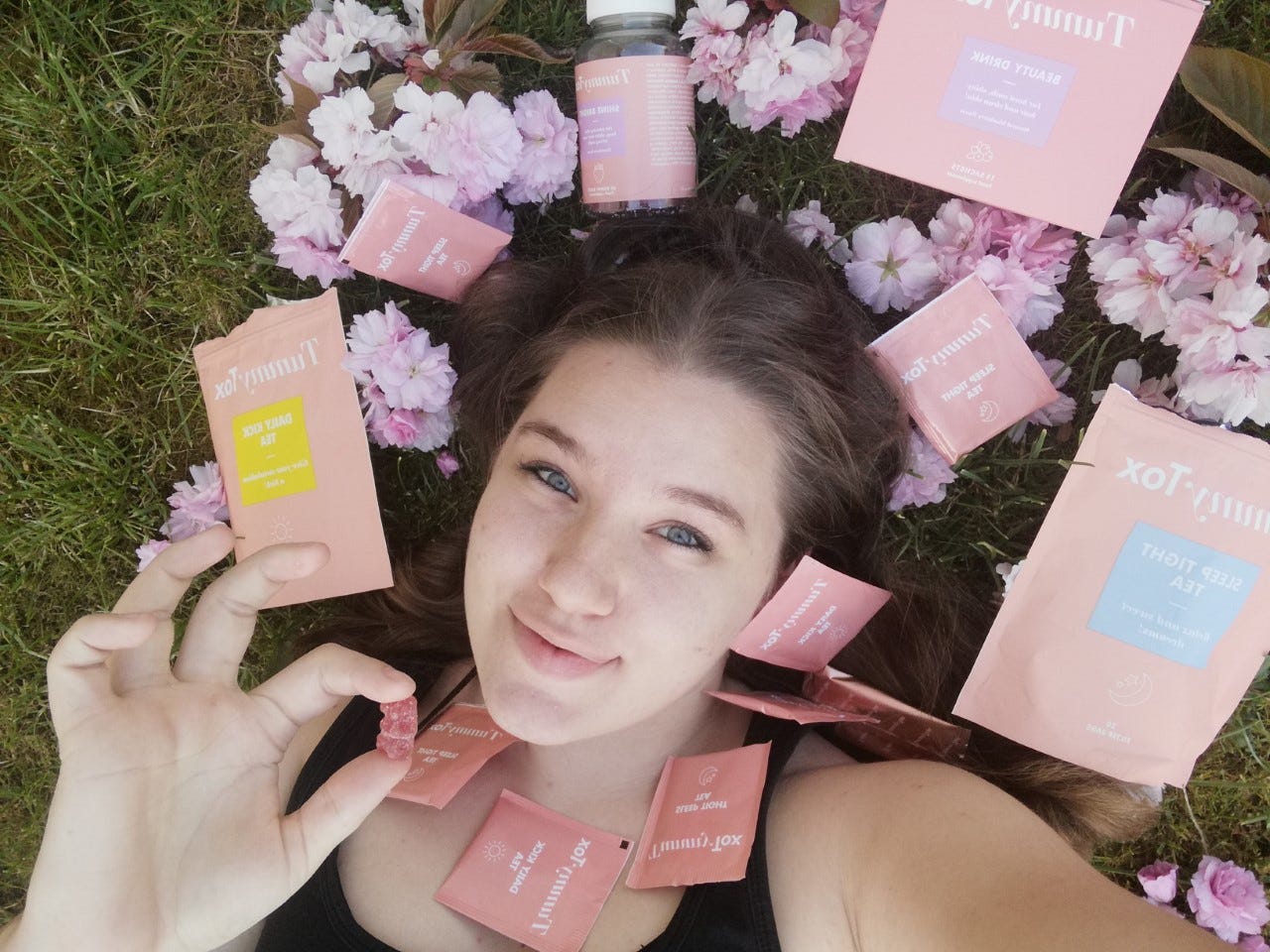 She also gets her beauty sleep now: "I wake up well-rested, stress-free, relaxed and feeling fresh. I don't even need to sleep as much as before..."
Violeta shed 10* kg with ease & improved her digestion
Violeta struggled with bad digestion and excess water weight. Then, she found TummyTox teas:
"After a couple of days, I noticed any appetite was smaller, my digestion improved and a slept incredibly well. I didn't need to eat so often and felt satiated even with smaller portions. And so I managed to lose 10* kg in 6* months."
Michaela lost 5* kg without going hungry!
No diet suited Mihaela's body, but she shed 5* kg in a month drinking our teas: "The TummyTox challenge increased my will to exercise, eat regularly and healthy. It freed me from the constant feeling of hunger and kick-started my metabolism."
Giovanna saw the first results after just 15* days!
"Honestly, at first I thought it was like any other weight-loss brand, but I figured I had nothing to lose."
"The first thing I noticed after drinking Skinny Me Tea every morning was definitely that my bloated belly was gone!"
Fall in love with our bestselling teas and see the results yourself!
Daily Kick Tea & Sleep Tight Tea duo supports weight loss: it boosts your metabolism and digestion during the day, and relaxes you at night!
Or choose My Skinny Tea, which helps you reach your goals faster by melting away fat and boosting energy levels.
These beautiful women are just a few among the 650,000 satisfied TummyTox customers that have transformed their lives with our products! So join them now and get a fab figure in a flash!
See and feel the results or we'll refund your money – 100% guarantee!
*The effects of the product may vary between individuals and could differ from those described on the website.